I am currently looking for a postdoctoral position.
Feel free to
contact me
if you think I could fill an open position in your group/lab.
Research
My research lies at the interface of biology, statistical physics and applied mathematics. I use a collection of empirical, statistical and modelling methods to investigate, from experiments, the mechanisms responsible for the collective behaviours of animals, including insect societies or fish shoals. In particular, I have strong interests in collective motion, i.e. how social groups move together through space in a synchronised and coordinated manner.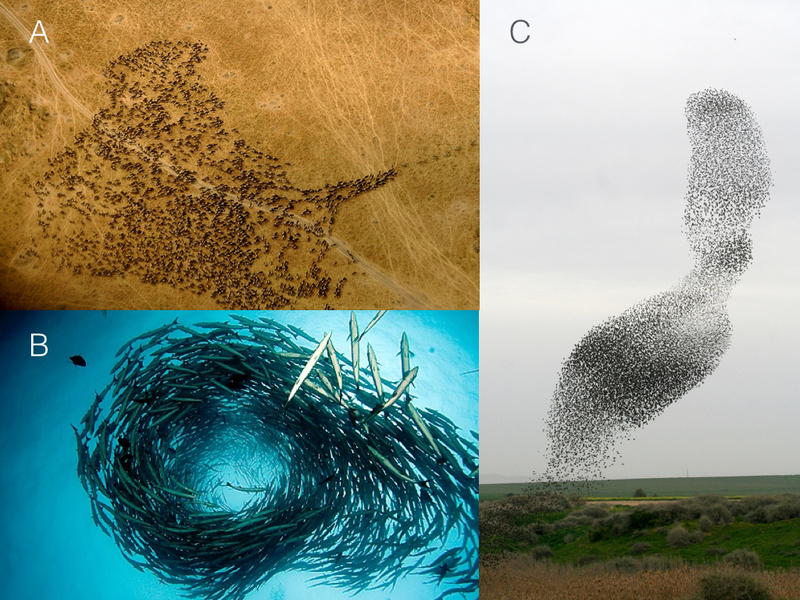 The patterns generated by collective motion in fish schools and bird flocks have fascinated humans for centuries, but only in recent decades have advances in modelling and data acquisition allowed collective motion to be investigated with scientific rigour. To research these complex systems is challenging for several reasons, the main one being that different individual rules can lead to the same collective behaviours. It is therefore difficult to infer and disentangle the individual rules from the collective behaviours themselves. The study of these systems with an integrative perspective requires a specific and interdisciplinary framework, especially combining modelling and empirical work at different scaless.
Communications
Sept 2016

Workshop at the European Researchers' Night of Toulouse, with a game of virtual reality for children called Panique à Fourmiville!. This game has been designed to explain the building mechanisms of ants, as described by Anaïs Khuong and her colleagues. Children (and adults) had to build the nest of ants before a disaster occurred. Project conducted with Rémi Gouttefarde with whom I developed the game from scratch in R.


Sept 2016

Dynamics of collective U-turns in fish schools: from empirical data to computational model. Talk at the 2016 Conference on Complex Systems, Amsterdam, The Netherlands.

Jun 2016

Dynamics of collective U-turns in fish schools: how information propagates within a group. Talk at the Collective Motion 2016 workshop, Uppsala, Sweden.

Aug 2013

Jost C, Solacroup A, Lecheval V, et al. The influence of gravity on termite displacement. Poster session presented at the International Union for the Study of Social Insects national section meeting, Paris.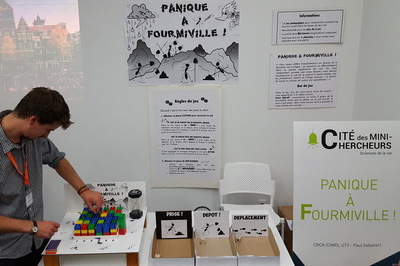 Teaching
Autumn 2016

64 hours as teaching assistant for the courses Quantitative ecology, Bachelor's programme in Ecology and Statistics, Master's programme in Ecology, Toulouse University, France

Winter 2015

Invited speaker in the course Advanced Self-organisation of social systems for master's students, Groningen University, The Netherlands

Autumn 2015

66 hours as teaching assistant for the courses Quantitative ecology, Bachelor's programme in Ecology and Statistics, Master's programme in Ecology, Toulouse University, France

Autumn 2014

64 hours as teaching assistant for the course Quantitative ecology, Bachelor's programme in Ecology, Toulouse University, France
Education
2014-2017

Double PhD degree at the Research Center of Animal Cognition, Toulouse University (France) and the Groningen Institute for Evolutionary Life Sciences, Groningen University (The Netherlands). This PhD project was supervised by Charlotte Hemelrijk (Groningen University, The Netherlands) and Guy Theraulaz (Toulouse University, France). My PhD thesis addressed the questions of coordination of motion and information transfer in groups of fish under internal or external perturbations.

2013-2014

Master programme in Computational Science, Uppsala University, Sweden. Master thesis entitled On collective bandit behaviour supervised by Kristiaan Pelckmans, in Uppsala, Sweden.

2011-2013

Master's degree in Ecological Systems Modelling, Toulouse University, France. Master thesis entitled How do the support inclination and the temperature affect the ant motion? supervised by Jacques Gautrais in Toulouse, France.

2010-2011

Bachelor of Science in Biology and Environment, Toulouse University, France

2008-2010

2-year special undergraduate studies to prepare competitive entrance examinations for admission in engineering schools, École des Métiers de l'Environnement, Rennes, France